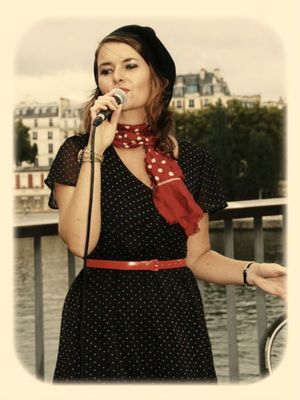 "
Mademoiselle Michelle" sings in Paris.

Mademoiselle Michelle has left her mark in such Parisian luxury hotels as "Hôtel Lotti, Ambassador, Georges V, Potel and Chabot etc..."
A smooth musical impression filled with nostalgia.

Mademoiselle Michelle takes her listeners on a melodic voyage to the St Louis bridge in Paris .
Her song styling is a blend of the harmony and the soul of Edith "la môme" Piaf's
and the lyrics of Charles Aznavour's and others

Because there is always a bit of Paris in Mademoiselle Michelle's soul
She sings alone in live on music playbacks or accompanied by a guitarist and/or with an accordeonist

You will be captivated...